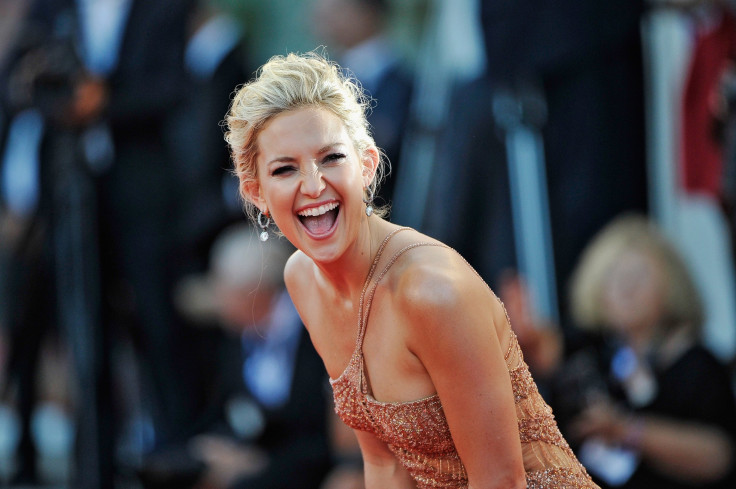 KEY POINTS
Kate Hudson can be seen walking along a pool in an orange two-piece in 'Glass Onion'
She said she was 'waiting' for the scene to be done to join her co-stars who had Aperol Spritz in Greece
Hudson described his character Birdie Jay as bold, loud, tone deaf and not so smart
Kate Hudson has shared some details about her iconic bikini scene in "Glass Onion: A Knives Out Mystery."
The actress, 43, appeared on Wednesday's "This Morning" to promote the new Netflix movie when she spoke about the poolside scene where she dons an orange two-piece.
According to Hudson, she chose to avoid alcohol before filming the scene and "waited" to do so so she could have a drink.
"While everyone was eating Aperol Spritz in Greece, I was just waiting for that scene to be shot so I could join everyone," she said.
"Everyone had a great time," she continued. "I was like, 'I'm going to have this cucumber and this feta.'
Elsewhere in the interview, Hudson opened up about how she and her co-stars had fun while "locked up together" on set. The 'Fool's Gold' star said they would be renting out bars and hosting group parties.
"We were really locked together because of COVID so we only had each other to go out. Then when we got to Serbia, because we were in Greece but then we did all our interiors in Belgrade, c It was right at the top of the Delta so we couldn't go anywhere," she shared.
She continued, "We basically rented the bar and did murder mysteries and they turned into dance parties and that's how we entertained ourselves while we were making the movie."
The Fabletics co-creator described her role, Birdie Jay, as a "sort of socialite fashionista" and an "entrepreneur."
"Birdie is really bold, very loud, deaf [and] not so smart," Hudson added.
Kaley Cuoco previously watched the role of Hudson in "Knives Out 2." In her cover interview for Glamour's April issue, she opened up about how "devastated" she was when the role went to the 'Bride Wars' star.
"I was convinced [the part was mine]… I was so convinced that my suitcases were ready for Greece," Cuoco said. "And then I didn't understand. I was so devastated. And I'm not [normally] devastated by the roles."
Cuoco joined the chemistry readings and was already convinced she would work with Daniel Craig, who is reprising his role as Detective Benoit Blanc, in Greece only to find the role "went to Kate, who's awesome."
"I cried and cried all night," Cuoco shared.
Meanwhile, director Rian Johnson recently expressed frustration with his film's official title, "Glass Onion: A Knives Out Mystery."
He told The Atlantic he only wanted to call the film "Glass Onion," but the production insisted on adding "A Knives Out Mystery" for marketing purposes. Johnson said he wanted each film to be "standalone".
"Honestly, I'm pissed that we have 'A Knives Out Mystery' in the title. You know? I want it to just be called 'Glass Onion,'" he said. "I get it, and I want everyone who liked the first movie to know that it's the next in the series, but also, all I'm interested in is that it's a new novel ready to be released. job every time."