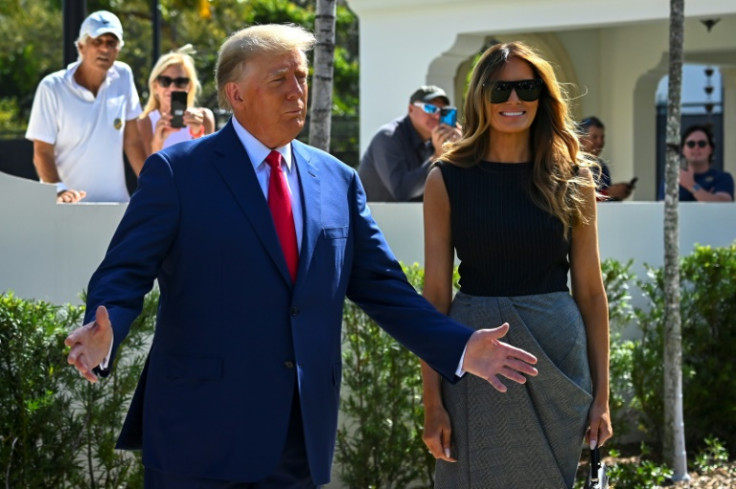 KEY POINTS
The party was attended by pollster Dick Morris and former Trump lawyer Rudy Giuliani
Ivanka Trump and Donald Jr. weren't seen at the New Year's Eve party
Trump's New Year's Eve party comes after a House committee report named him the 'central cause' of the Capitol riot
Former President Donald Trump and his wife, former first lady Melania Trump, hosted their annual New Year's Eve party at Mar-a-Lago, with guests including club members and some of the couple's political allies.
Party attendees included pollster Dick Morris, legal adviser and former Trump attorney Rudy Giuliani, pillow maker Mike Lindell and his son Eric and wife Lara. Trump's daughter, Ivanka, and son, Donald Jr., were not seen at the event, the Palm Beach Post reported.
On New Year's Eve, Trump, who announced his 2024 presidential bid in November, said polls suggested his campaign was doing "very well".
"I saw some polls just today that were fantastic," he told WPTV.
He also spoke about some of his main political concerns, including the need to establish "a strong border" and to revive the economy. Trump, however, dodged questions from reporters regarding his stance on the U.S. abortion ban, Gov. Ron DeSantis (R-Fla.)'s call for an investigation into COVID-19 vaccines and the second anniversary of January 6. 2021, Capitol Riot.
Trump's New Year's Eve party comes after a year of significant setbacks. Last month, the House committee investigating the Jan. 6 Capitol riot released its final report in which it named Trump as the "central cause" of the devastating uprising that day.
The report also uncovered four criminal referrals against Trump, including incitement to insurrection, conspiracy to defraud the United States, conspiracy to make a false statement, and obstruction of official process.
In addition to the Jan. 6 investigation, a separate House committee released Trump's tax returns, where it was revealed he paid minimal taxes in the first and last years of his tenure. presidency. The release of his tax forms also showed that Trump paid no taxes in 2020 after his company reported big losses due to the COVID-19 pandemic.
The Justice Department also conducted an investigation into Trump's mishandling of government records while in office. In August, the FBI raided his property in Mar-a-Lago and recovered over a hundred classified documents.